Choosing the Right Base Plate for Your Rooftop Guardrail System
Baseplates hold up the guardrail posts of non-penetrating free-standing roof barrier systems that can be used in a temporary and/or permanent installation. Their weight, material, and profile are all considered when looking to protect your flat commercial roof from a fall hazard.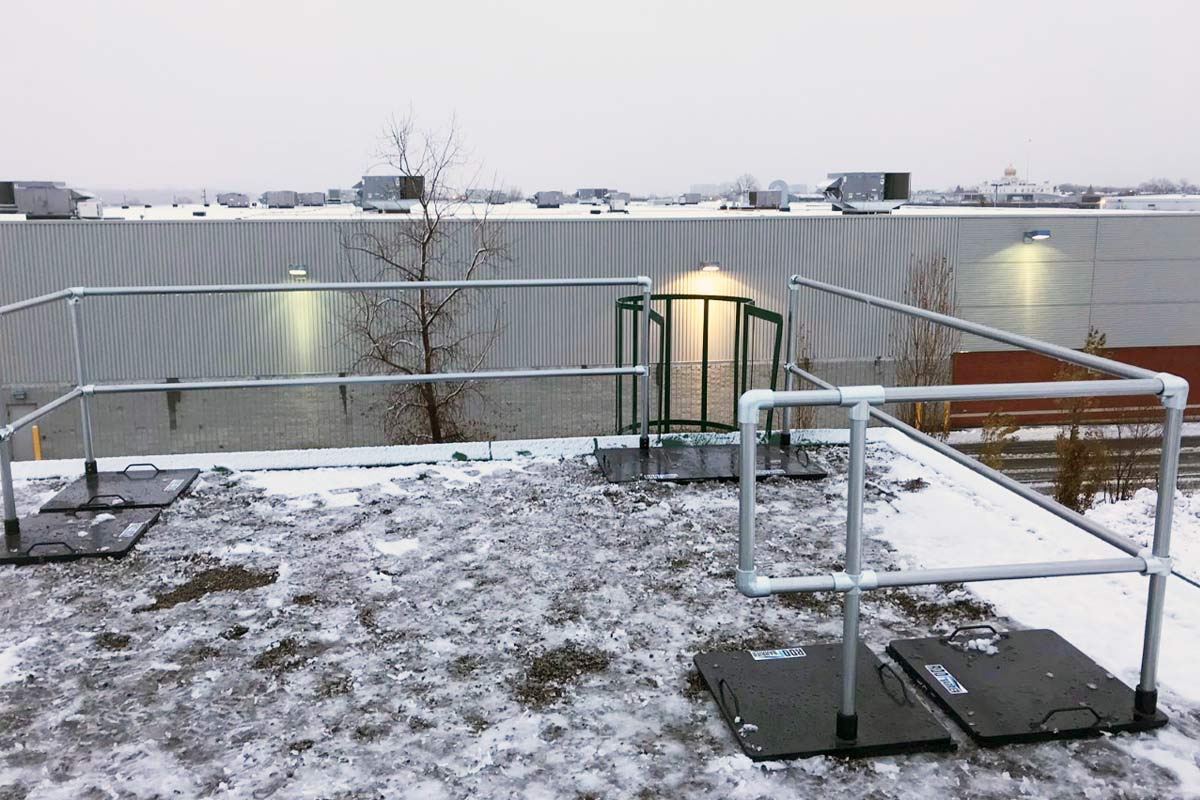 The material and weight of a base plate go hand in hand. You are essentially looking for a base plate made of heavy material to protect you from a potential fall. Otherwise, if the base plates are lightweight, the barrier itself will move with ease when trying to stop you from falling. Especially when considering that the average worker is carrying various heavy tools with them, adding to the stress on the guardrail.
Base plates are commonly made from galvanized steel or powder-coated steel. It's important to remember that your roof is subject to high winds, rain, and possibly snow, depending on where you live. The base plates are a critical component in creating a safe and compliant guardrail solution; if they are made of a material that degrades over time, you will not be able to guarantee safe passage around the roof. Therefore, you want to ensure your steel base plates are coated with an anti-corrosive layer, also minimizing the potential of rust leaching onto the roof itself and causing damage.
For example, let's say you were to use heavy paver blocks… With various temperature changes, pavers tend to crack, eliminating the support you once thought you had. It also breaks without warning, only noticeable during your yearly roof safety inspection.
There is no set rule in terms of how heavy a base plate should be. Our standard base plates are either powder coated or galvanized and weigh 40 – 100 lbs each. If you use a cantilever style design where the weighted base plates are extended a few feet from the post, you can use a lighter weight like our 40 lb base plates.
Above, we talked about base plates potentially damaging the roof. That is correct; if you have a membrane roof you will want to ensure that the steel base plates do not damage the roof. Which is why all of our heavy base plates include a thick rubber mat on the bottom, ensuring your roof remains looking new.
Moving around 100-pound base plates can get quite tiresome. Look out for base plates that include ergonomic handles to help lift and carry them safely across the roof. This is especially important if you are considering a temporary installation.
One of the most underrated features of a base plate is its profile. Our base plates are "low-profile"; they are manufactured slim and wide to reduce any chance of tripping. This is especially important if you are working during the winter months. Fresh snowfall will cover skylights, roof edges, access hatches, ducts, and your base plates. A trip can pose a severe risk of injury.
Can I Interchange Base Plates?
It is not advised to purchase your guardrails from one manufacturer and your base plates from another. Likewise, when looking to replace your base plates, it is best to consult the manufacturer of your guardrail system. They may look like they fit and have a very similar design, although it may not be safe.