Serving customers from across Canada and around the world, Conestoga operates five automated cold storage warehouses with a total storage volume of over 64 million cubic feet which provides fully computerized warehouse facilities, distribution centres, and a chain of cross docks that enable them to deliver product efficiently from coast to coast. This combination results in dependable service across the country.
Creating A Safe Rooftop – Living A Safety First Culture
The consultant working with Conestoga's Western Canada team recommended a review of the rooftop prior to taking ownership of their new building, in order to ensure a safe rooftop. The review was made up of walking the same path as a facility maintenance worker, gaining safe access to the rooftop, while ensuring a safe environment on the roof where routine maintenance occurs. Skyline's team of roof safety specialists assisted the consultant and Conestoga in reviewing the building's rooftop safety requirements.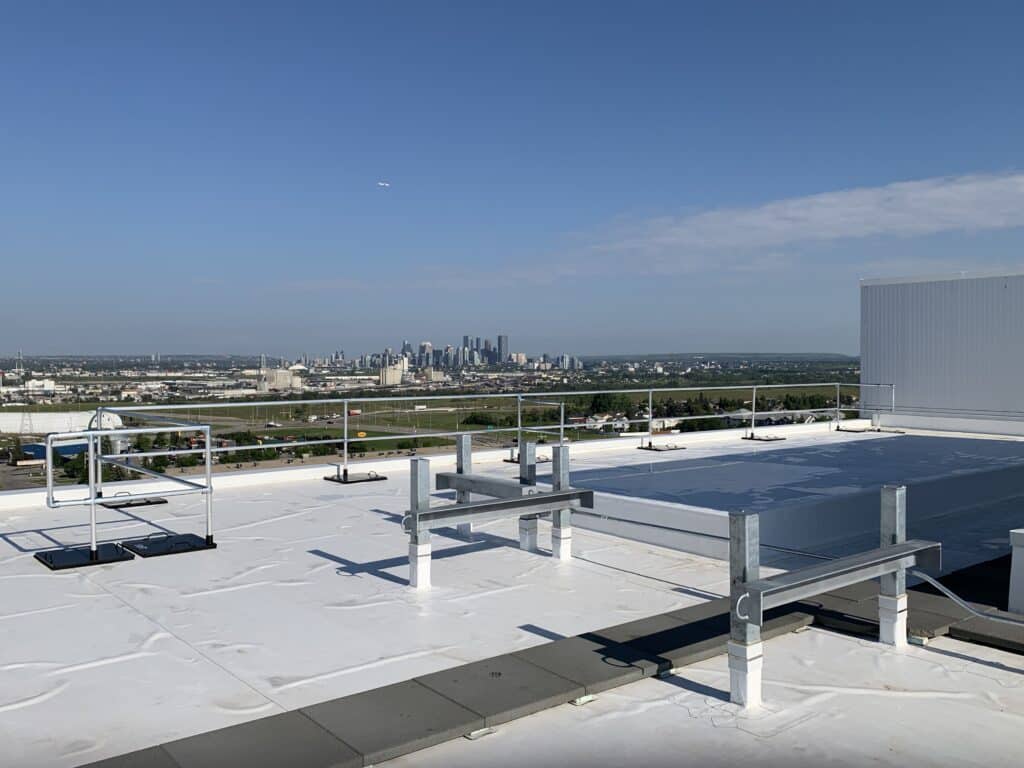 HVAC Roof Safety Guardrail
On this flat roof the HVAC system is slightly more than 6 feet away from the roof's edge, so why would a safety solution be required? When a member of the facility maintenance team or a third-party service crew is required to be on the roof, they need to travel and work in an environment that is within 6 feet from the roof's edge. When taking into consideration one's tools and the need to work from all angles of the HVAC system, you are physically too close to a fall hazard. As a result, Skyline Group recommended an aluminum non-penetrating roof safety guardrail system that would act as a permanent safety solution. Ensuring, regardless of where you are working around the HVAC system, the risk of a fall is eliminated.
Why Use a Non-Penetrating Roof Safety Guardrail
Both penetrating and non-penetrating systems will keep roof workers safe while working on a commercial flat roof, minimizing the risk of injury. The modular aluminum self-ballasted roof safety guardrail systems were selected by Conestoga due to the following:
Being a self-ballasted non-penetrating system meant that there was no need to fasten the roof safety guardrail to the brand-new rooftop. Eliminating the need for the roof to be resealed from potential water leaks, and increase labor costs.
Its modular design brought various advantages;

Easy and quick installation.
When compared to a welded solution, the modular system was extremely easy to transport to the rooftop.
Its design allowed for flexibility, as the roof evolves with time so will the safety guardrail solution.

Its aluminum material ensures that the unit will not corrode during the harsh winter months.
Due to roof load requirements, this aluminum guardrail also minimized the strain that would be placed on the roof.
With the roof safety guardrail system requiring less time to transport and install on-site, the project was also completed under budget and on time.
Looking to understand how you can ensure a safe and compliant rooftop? Connect with our team of safety specialists for your complimentary safety lunch and learn session.